Richard Dalton
We are a family run garage that has been looking after vehicles in the area since 1987, with a wealth of knowledge at our disposal and some of the most qualified and dedicated mechanics, technicians and office staff
We are a family run garage that has been looking after vehicles in the area since 1987, with a wealth of knowledge at our disposal and some of the most qualified and dedicated mechanics, technicians, office staff and of course our resident garage dog Spa.

We are a family garage that aims to be your family garage, and as our slogan says: "A garage you'll be happy to recommend".

We service, MOT and repair most makes and models of modern vehicle and also specialise in classic car repair & restoration as well as having a dedicated motorhome service centre.
What has the BNI done for my business
.
How I value BNI membership
.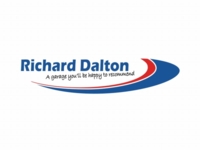 Holditch Road
Newcastle under Lyme
Staffordshire ST5 9JA
Tel: 01782 563233
Email: Service@richard-Dalton.com
Website: http://Www.richard-dalton.com
Testimonials
By: David Meigh (PDR World) 05/11/2019
"A garages you'll be happy to recommend" is the tag line for Richard Dalton garage and that's absolutely correct. I recommended Lucian and the team to my friend. He didn't really have a go-to garage so when I explained the list of services they offered and how convenient their location is he gave them a go. After visiting them with a broken locking wheel nut he rang me to say "Thanks for recommending that garage to me. You've done me a real favour there. They really looked after me and I'll be using them for all of the family cars and I'll be recommending them to friend too." Great work guys.