Craig Tiley
This year we have been providing many a fleet of vehicles with their livery, we apply graphics to all sorts of vehicles from a car to JCB - Last month we wrapped a tractor to make it look like Buzz Lightyear and it looked fantastic.
Vehicle Graphics Specialists and Sign Makers in Stoke-on-Trent

As sign makers, we supply vehicle graphics, exterior signs, interior signs, window graphics, exhibition displays, PVC banners, labels and stickers, health & safety signs in Stoke-on-Trent and the surrounding areas.

Many of the signs we fit are shop signs, school & college signs, retail signs, promotional displays, business signs, office signs, event & exhibition signage, directional signs and national signage.

Signs Express (Stoke) was established in 1999 is owned and operated by Craig Tiley who received a national award for achievement in 2016. The centre works with a variety of customers, covering areas in and around Stoke such as Newcastle Under Lyme and Uttoxeter. Also, it is ideally located in Fenton Industrial Estate in the heart of the Potteries.
What has the BNI done for my business
Since joining BNI in 2016 I have forged fantastic working relationships with influential business owners in Stoke, I have made friends and sought advice when things have been difficult due to extremely rapid growth. Part of this growth has been through BNI. I have added an extra £75k to my businesses turnover directly through BNI in the past 12 months and I have also been thanked for £36K's of which i am very proud of.

My customers now come to me to ask if I know someone all the time, I find this very humbling as they trust me to pass them to a reputable business who they can trust.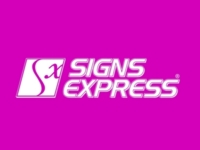 Unit 3
Crabtree Close
Fenton Ind Estate
Stoke on Trent
ST4 2SW
Tel: 01782 916430
Email: craig.stoke@signs-express.co.uk
Website: http://www.signsexpress.co.uk/stoke
Testimonials
By: Luke Almond (LA Locksmiths) 31/01/2019
I called Craig a few months ago as I was thinking about getting my van sign written. We arranged a meet up the next week to sit down and create a few design ideas of how I would want the sign writing to look. Craig came up with some amazing ideas and we ended up finalising the design within a couple of hours. Within 2 weeks Craig had designed, printed and finished the signage on my van and I was extremely pleased with the outcome. Craig was extremely professional and I couldn't have asked for more from him and the team at Signs Express! If you want to view my van signage, click through to my website here https://lalocksmiths.co.uk