Glynn Buckley
Solicitors and Business Legal Advisors
Leadbeater & Kay is a Solicitors practice aiming to provide a range of client focused legal services including:

Residential Conveyancing and Property Transactions (inc Resdential Landlord and Tenant work);
Commercial Conveyancing and Property Transactions (inc Commercial Landlord and Tenant work);
Commercial and Company Law;
Business Advice;
Employment Law;
Civil Claims and Litigation work;
Civil Debt collection;
Family Law work;
Wills Trusts and Probate work; and
Criminal Defence and Road Traffic offences work.

What has the BNI done for my business
As a professional person BNI has assisted me in having a better understanding of the needs and requirements of my target market, and to more closely focus on the delivery of a service aimed at value for money.
How I value BNI membership
Membership of a Business Networking group is always difficult to estimate or truly evaluate.

It represents a substantial value of chargeable fee income and is of incalculable value in terms of professional contacts and third party resources to call upon when required.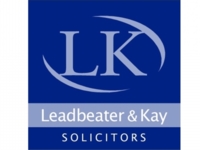 1-5 Birch Terrace
Hanley
Stoke on Trent
ST1 3JN
Tel: 01782 201933
Email: glynnbuckley@leadbeaterkay.co.uk
Website: http://www.leadbeaterkay.co.uk
Testimonials
By: Andrew Smy (Peak Chiropractic) 07/06/2018
Glynn is simply invaluable. During a recent tenancy agreement he explained everything to me in clear and pragmatic terms and outlined where we would be at various stages.

Having actually taken the time to listen to what i wanted to do with the property and what i needed it to do for me Glynns advice lead to me deciding to pulling out of the agreement saving me a lot of potential risk and personal stress.

I really cannot recommend Glynn highly enough.